Mom, I'm boooorrredddd!
There's nothing to do!
It's inevitable; you hear those words every summer. Some times, more than once a day! In order to keep potential whining to a minimum (and having every idea offered shot down with "Nah, I don't want to do that" and a curled up lip,) I scoured the internet for fun boredom busters.
Using as many ideas as I could find and adding as many as I could think up that would work at our house for my kiddos, I came up with
120 ideas
for our "I'm Bored" jar.

(None of the ideas are chores since that's already part of their summer daily schedule and none are for 'away from home' activities since we build those into our week too. They are all at-home, we-have-the-stuff-on-hand, use-your-imagination, little-to-no-supervision-required activities.)
I typed the ideas into a label template (10 up, 3 across per sheet) using a cute, kid-type font (
Andy
for you fontaholics).
Then I trimmed scrap cardstock to 3" x 1.5" and affixed the labels.
Makin' the Grade

cartridge
, I cut out 1.5" letters (with the shadow) and stuck 'em on.
2 quick coats of semi-matte Mod Podge to keep it from getting too grimy from little fingers and some left-over ribbon on the handle finish it off! Best part---total cost = FREE since I had everything on hand. But if I would have had to go buy all the supplies then maybe a total of $2-$3. For a whine free summer, I'd say that's worth the investment!
The idea is that if the kids say they're bored, I'll whip out the jar and they'll get to pick a card. (Like how I spun that? They don't HAVE to pick a card, they GET to pick a card! It's all about marketing, eh?)
Linking up here!
and here:
This project was featured here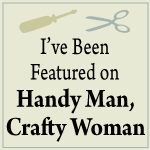 and here